Annette Garcia was a strong pro-Israel activist:  she was the executive director of the New Mexico chapter of Christians United for Israel (CUFI) for many years, and, as president of Son Broadcasting, insured that Israel in Focus, hosted by John Sandager of Yad b'Yad,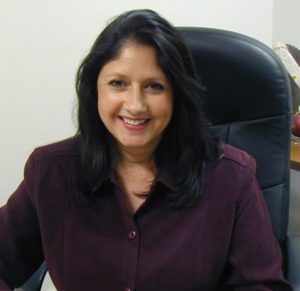 presented interviews with statewide, national, and international experts on the Middle East as related to Israel.
Annette was a partner with the Jewish pro-Israel community in Santa Fe and throughout New Mexico.  She worked with the Jewish Federation of New Mexico, the NM chapter of the American Israel Public Affairs Committee (AIPAC), and other pro-Israel groups to mobilize her Christian pro-Israel community when critical issues arose, or simply to help organize caucuses with our elected officials.  She took a strong stand on opposing the Iran Deal (JCPOA) in 2015, and worked in coalition with the above groups closely.  She visited Israel many times, and supported works ongoing there as well.  She was enthusiastic about the activities of SFMEW, though she had little time to be involved, as her illness appeared shortly after we formed.
And, Annette was a wonderful, warm, friendly, caring person.  In short, she was a mensch.  Her memory is a blessing – she is missed.
---
ANNETTE M. GARCIA Devoted wife, mother, sister and friend, Annette M. Garcia went home with the Lord on July 29, 2016. Annette served as President of Son Broadcasting KCHF TV and Pan American Broadcasting Company-AM 730 KDAZ here in the Albuquerque and Santa Fe area. She served on the Advisory Board of Christian Women in Media, the Board of Directors and Executive Board of the National Religious Broadcasters, and was NM State Director for Christians United for Israel. Annette was preceded in death by her parents Angie and Belarmino "Blackie" Gonzales, brother Gary, sister Cordelia, mother-in-law Louise Garcia, brother-in-law Anthony Archiveque and nephew Nicholas Cooley. Annette is survived by her husband Jim G. Garcia and daughters Michelle and Jamie; brother Ted Gonzales and wife Pamela with children Jennifer, Jeff, Jacqui, Teddy and Tyler; sister Mary Kay Gonzales with son Jeremiah; sister Vickie Archiveque with son Quinten and grandson Vincent; and her extended in-laws, nieces and nephews. Annette loved people and especially loved being with her family at their lake house and camping. If you wish to honor Annette and the legacy she passes on, the family requests donations be made to Son Broadcasting (505-345-1991) in lieu of flowers. A celebration of her life will be held at Hoffmantown Church, 8888 Harper Dr NE, Albuquerque, NM 87111 at 1:00pm, Thursday, August 25, 2016.

Published in Santa Fe New Mexican from Aug. 7 to Aug. 21, 201