Introduction
Though flight delays caused Bassem Eid to begin his talk two hours later than planned (9:00 p.m.), about 65% of the original audience of close to 100 waited or returned to hear him discuss the Gaza Strip, West Bank, Hamas, Palestinian Authority leadership, and the BDS movement (Boycott, Divestment, and Sanctions).
You might be surprised at what he had to say.  You can listen to his 48 minute talk by using the sound bar below.  In the recording Mr. Eid (below left) is introduced by Lance Bell, our Speakers Committee chair, shown here (right) with his wife, Julia.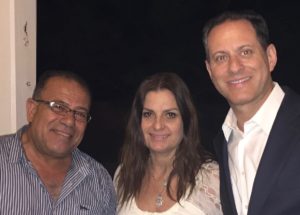 Click on this sound bar to hear Eid's entire talk:
Once again thanks to ADL-New Mexico and Suki Halevi (shown below on the far right), and the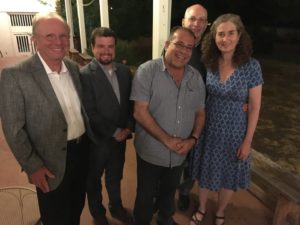 Jewish Federation of New Mexico and executive director Zach Benjamin (second from left) and new president Marvin Gottlieb (far left), for sponsoring this talk along with SFMEW (SFMEW chair, Halley Faust, is second from right).
Here is a brief summary of Mr. Eid's remarks:
The Gaza Strip and Hamas
The Egyptian government and the Palestinian Authority (PA) are allied in their desire to eliminate Hamas.  Since Egyptian President Abdel Fattah el-Sisi has taken the reins of power and removed the Islamic Brotherhood, Egypt has viewed Hamas as allied with terrorism in the Sinai peninsula..  Thus Egypt has tightened the Rafah crossing from the Gaza Strip into Egypt – open only for 20 days during the past year and allowing only 20,000 Gazans to cross the border – vs. 460,000 people crossing annually just before the Egyptian Spring events~) , limited goods from flowing into Gaza and Gazans from moving into Sinai, and bulldozed large swaths of adjacent land to the southern end of Gaza to limit Hamas' tunnel building.  In contrast to Egypt and the PA wanting Gaza to remain un-reconstructed, Hamas wants to reconstruct Gaza with a priority toward re-building the military and tunnels.  Obviously, Israel Gaza's priority be for re-building housing, hospitals, schools, and utility infrastructure that was destroyed during the Summer, 2014 war.  Because of these different objectives, little reconstruction for the good of the people has occurred in Gaza.
"Ask any regular Gazan person who is really imposing the blockade on the Gaza strip, everybody will say Egypt and nobody will say Israel."
The West Bank
The majority of Palestinians are seeking dignity, not identity.  They want a job, education, and healt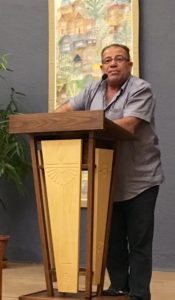 h care.  They want a non-corrupt government.  In short, they want civic and economic improvement.  "Nobody talks about the wall or Israel."  The Palestinian on the street has no confidence in its leadership.  They enrich themselves with international aid and very little trickles down to the people.  Earlier in June results from a survey were released:  96% of the Palestinian people believe their leadership is corrupt.
Ironically, Eid claims that, while the rest of the Middle East is in turmoil, "The Israeli-Palestinian conflict is one of the safest places…Israel disappeared from the Arab media scene."  The Arabs have started to realize how Arabs are killing Arabs and Muslims are killing Muslims, and Israel has nothing to do with it.
The International Community
Eid believes that the greatest fault for the poor economy is the "international community."  Since Oslo (1993) international donors to the Palestinians have provided billions of dollars of aid that has been squandered, mostly enriching the elite and "not providing one job to the average Palestinian."  The international community has not demanded accountability for the use of their funds.
Further, while the Arab states invoke the "Palestinian situation" when it is convenient, Eid believes that the Arab countries don't want a Palestinian state, or at the very least it is not a high priority.  Instead, since the Iran nuclear deal, other Arab countries, like Saudi Arabia, are worried about the possible effects of and are making arrangements with Israel to help them.
Even more upsetting to Eid, however, is that European countries are trying to threaten Israel by saying that if Israel won't resume negotiations with the Palestinians they'll recognize a Palestinian state.  But, he asks, what state?  There is no infrastructure, institutions, or economic sources.  Further won't there need to be three states?  Gaza, West Bank, and Israel?
Instead of the Europeans declaring a state of Palestine, they should be helping the Palestinians to build the infrastructure of what could become a viable state; the state should be built before it is recognized.
BDS
So, while the Palestinians on the street want to see economic progress, people outside of Palestine want to boycott Israel.  Yet the people pushing the BDS (Boycott, Divestment, and Sanctions) agenda have no credibility among Palestinians, who want jobs.  Further the BDS people prefer war over peace – they want the destruction of Israel, but instead are bringing more heartache onto Palestinians.
There is much more to hear in Eid's presentation.  Click on the link above to hear the presentation in its entirety.  It will be worth your while.
---
Many Thanks To Those Who Helped in Planning and Assisting at the Event:
At the event:  Julia & Jacqueline Bell, Zach Benjamin, Suki Halevi, Kristina Harrigan, Diane Miller, Paulina & Ira Robinson, Stephanie Rosen
Speakers Committee:  Robert Efroymson, Halley Faust, Richard Lieberman, Nurit Patt, David Pollak, Ira Robinson
---
Do you have something to say that supports our mission?  Submit your proposed blog posting to media@sfmew.org.*
Thanks to all those who have supported SFMEW's activities to date, including funding for the expenses associated with this talk.  Wouldn't you like to see your name on the Supporters list?  Go to Donate to make your tax-deductible contribution.
Have a friend, relative, or acquaintance who would enjoy receiving our emails/blog posting announcements?  Have them visit our website, www.sfmew.org, and sign up on the right-hand side, "Receive Information and Alerts."
Hold the date:  Sunday, September 25, 1-5 p.m., Israel Advocacy Workshop with ADL-NM.
________________________
Footnotes (added by the blog editors)
~In contrast, over 50,000 Gazans crossed into Israel through the Erez Crossing in 2015.  See here.
*Of course, the blog editors reserve the right not to publish submissions if we deem them inappropriate for the website.
---