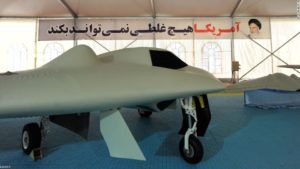 The Santa Fe New Mexican reported this morning on the recent attacks by Israeli aircraft on Iranian and Syrian positions within Syria following the violation of Israel's airspace by an Iranian drone.  The New Mexican reported at the time that it was unknown if the drone was armed.  We now have clarification from the Israel Defense Forces via AIPAC, the American Israel Public Affairs Committee:  the drone that Iran sent into Israeli airspace was armed.
Early this morning, Iranian forces in Syria sent an armed unmanned aerial vehicle (UAV) into Israeli air space on a "hostile, military mission."  Israel intercepted the UAV and engaged in a military operation against Syrian and Iranian forces. Click here to watch a video of the UAV intercept.

The Director of our Jerusalem Office participated in a briefing by the IDF's Spokesman this morning…According to the IDF Spokesman's Briefing:
Early this morning, Iranians sent an armed unmanned air vehicle (UAV) on a "hostile, military mission." Details of the UAV's mission are still classified, but will be released in coming days. Using an Apache helicopter, the IAF was able to shoot down the UAV while it was going at full speed (not considered a simple feat). The IDF has the UAV's remains and is examining them.

Almost immediately, using its intelligence capabilities, the IDF was able to identify that the UAV was controlled / launched by a mobile Iranian Command and Control center located deep inside Syrian territory.  Israel sent a formation of eight planes, which completed their strike, destroying Iranian mobile station while it was in motion.

As the fighter jets returned to Israel, Syrian Anti-Aircraft (AA) forces, operated by Syrian soldiers, fired a massive AA barrage of SA-17 and SA-5 missiles. One of the eight fighter jets was hit while flying back over the Israeli Golan Heights. The plane continued until the pilots decided to eject, and the plane crashed in Israeli territory in the Northern Galilee. The two pilots were hurt, and one remains in serious condition.

Israel decided not to accept this and in response launched the biggest single aerial attack against Syria since 1982. The IAF struck 12 targets: eight from the Syrian 4th Division, along outskirts of Damascus, including six AA targets. The main Syrian AA radar was destroyed, as was the main AA command and control center. The other four were Iranian targets, specifically training, housing, and other support facilities meant to help with Iranian entrenchment for Iranian forces themselves (and not, for example, for Shi'a militias). 

All IAF planes return safely to base, but did encounter another major AA barrage of approximately 15-20 SA-17 and SA-5 missiles.

IDF remains confident that it will continue to enjoy full freedom of movement in Syria and wherever else necessary.

From the IDF's point of view, the key issue here is that this incident concretely demonstrates exactly what Israel has been concerned about for some time now: that Iranian involvement in Syria is meant to create a new front against Israel and led here to a major escalation. If left unchecked, such incidents will only continue and contribute to regional instability. This is why the long-term Iranian presence in Syria is unacceptable.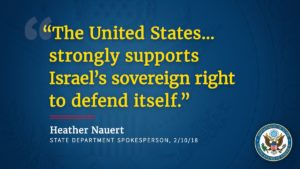 As is evident from the above quote, the US has been supportive of Israel's actions to date.
It appears that Israel considers this series of events to be over if there is no further incident from Syrian territory, as reported a couple of hours ago in the Jerusalem Post (underline added):
A senior official in Israel's defense establishment on Sunday warned that Iran is determined to entrench themselves in Syria and will continue to try to attack Israel. Israel's responses to these further violations will be even more forceful.

"As far as we are concerned, the event is over but the Iranians are determined to continue to establish themselves in Syria and the next incident is only a matter of time," he said, warning that Israel does not rule out that that the Islamic Republic will continue to try to attack Israel.

"We do not know what the mission of the Iranian drone was, it is their most advanced drone and they did not expect our radar to detect its penetration into our territory," the senior official stated. "Our aerial freedom will not be harmed. We will continue to destroy targets."
---
Update:  Dennis Ross discussed this incident in an op-ed in the NY Daily News on February 12, 2018.  You can see his analysis here.  Ross urges Trump to discuss this with a clear message to Putin:
It may not be President Trump's inclination to be blunt with Putin, but unless Putin sees that his current posture is likely to trigger American—and not only Israeli—responses to the Iranians and their proxies, he may not act. To be sure, Trump could tell him that the last thing either of us wants is an escalation in Syria that could draw the two of us into an unwanted conflict.

But if the Iranians are left unchecked, that is a risk we are both running. (That this past week, U.S. forces in eastern Syria decimated a Syrian regime militia—after failing to get the Russians to stop them from assaulting the Kurdish-led SDF—could lend credence to our being willing to act to contain the Iranian presence in Syria.)

To underline the message, the Trump administration should be reaching out diplomatically to the Europeans as well. They can go directly to the Iranians and say if their expansion continues in Syria, the EU will have little choice but to impose new sanctions on the Iranians for their de-stabilizing actions there.

It is possible that the aborted attack and the expanding military presence is not President Hassan Rouhani's doing but that of Soleimani and the IRGC. All the more reason to highlight the price of such adventurist behavior, particularly at a time when the demonstrations in Iran showed the Iranian public resents what Syria and Lebanon are costing them.

Policy makers don't often get crystallizing moments that tell them action is required to avert bigger dangers. But Iran's attempted attack and Israel's response is such a moment and the administration would be wise to mobilize a wide diplomatic response before the next shoe falls.
---
It's not too late to register to attend AIPAC's 2018 Policy Conference, March 4-6 in Washington, DC.  Come help the rest of the New Mexico delegation deliver strong and important messages to our representatives and senators about the US-Israel relationship.  Click here for more information and to register.
---
Thanks to all who attended our membership meeting on Wednesday.  The next meeting will be April 17, 2018.  Your taxes (or an extension) will be filed, your mind will be at ease, you will have celebrated Rosh Hodesh Iyyar, and you can put your mind to work on the security and safety of Israel.  Put April 17 on your calendar now and be sure to attend.
---
---
SFMEW is a beneficiary organization of the Jewish Federation of New Mexico.