partnered with
to present
Clive Lipchin, PhD, Director, Center for Transboundary Water Management, Arava Institute for Environmental Studies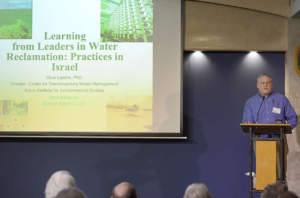 On Sunday, January 7, 2018 from 4:30-6:00 pm over 100 Santa Feans heard Dr. Clive Lipchin, Director of the Center for Transboundary Water Management, speak on how Israel has turned from a water poor country to a water rich country through efficient water management, centralized water planning, effective conservation, improved agriculture use of drip irrigation and brackish water, recycling, and desalination.
If you missed his talk, or just want to watch it again, here is the link:  https://youtu.be/UlvumJf939Q.
You can also hear his interview on the Richard Eeds show that occurred in advance of his talk here.
As the Director of Israel's Center for Transboundary Water Management, Dr. Clive Lipchin brings together water professionals and policymakers across Israel, the Palestinian territories and Jordan on issues of water conservation and education. As a faculty member at the Arava Institute for Environmental Studies, he teaches and oversees research about the Middle East's environmental challenges.
Congratulations to Lance Bell, Chairman of the SFMEW Speakers Committee, his whole committee, and the Jewish National Fund (JNF) for producing such a successful event!  Many thanks to the JNF for supporting this event.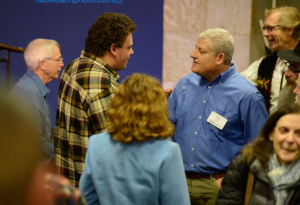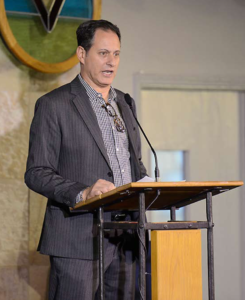 ---
SFMEW is a beneficiary organization of the Jewish Federation of New Mexico.