Save the date – Bassem Eid speaking in Santa Fe – June 23
 Save the date – Santa Fe Israel Advocacy Workshop – September 25
 Recent media activity

SF New Mexican prints positive article about Israel on Cyber Security.
SF Reporter prints more letters re: Lena Griffith
Yasher koach to Rich Lieberman for New Mexican letter to the editor

 If you see something, say something.
---
 Save the date – Bassem Eid speaking in Santa Fe – Thursday, June 23, 2016, 7:00 pm., location to be announced.
Santa Fe Middle East Watch is proud to present our first public lecture:  Bassem Eid, human rights activist and former director of the Jerusalem-based Palestinian Human Rights Monitoring Group (PHRMG).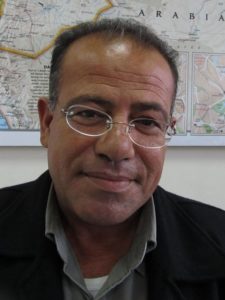 More background can be found from YNET's article:
"During a lecture tour of South Africa some three months ago [July, 2015], Bassam Eid, a Palestinian resident of East Jerusalem and human rights activist, voiced harsh criticism of the BDS movement – and this in a country where the boycott campaign has particularly strong public support. 'The leaders of the movement were stunned to hear a Palestinian who says that Israel is not an apartheid state,' Eid says in an interview with Ynet's sister publication, Yedioth Ahronoth.

"Born in the Jewish Quarter of Jerusalem's Old City in 1958, Eid grew up in the Shuafat refugee camp in northeast Jerusalem and moved some 15 years ago to Beit Hanina in East Jerusalem.

"In the late 1980s, he teamed up with the group of people who founded B'Tselem and worked for the organization for seven years. Thereafter, he set up a new human rights organization, the Palestinian Human Rights Monitoring Group.

"Unlike B'Tselem, Eid's organization focused only on human rights violations perpetrated by the Palestinian Authority in the West Bank and the Hamas regime in the Gaza Strip."
Lance Bell, the chairman of our speakers committee, could use your help in organizing and sponsoring this program.  Please contact him at speakers@sfmew.org.  You can donate to SFMEW for this important activity by clicking on the link "Donate."
Please note that June 23 was going to be the SFMEW next meeting date, which has now changed to Monday, June 27.
2.  Save the date – Santa Fe Israel Advocacy Workshop – Sunday, September 25, 1:00 – 5:00 p.m., location to be announced.
Have you wanted to learn how to be a strong, accurate, and effective advocate for Israel; to counteract criticism of Israel either in the public media, private conversations with friends and colleagues, or to public representatives; how to differentiate legitimate criticism of Israel from anti-Semitism?  To become a more effective op-ed or letter-to-the-editor writer?  This workshop is for you.  Jointly sponsored by the Anti-Defamation League (ADL) of New Mexico and Santa Fe Middle East Watch, you'll get the latest on the facts, myths, and persuasion skills valuable in presenting Israel in a positive light, and counteracting unfair criticisms of Israel.  Watch for more information.
3.  Recent media activity
SF New Mexican prints positive article about Israel on Cyber Security.

In the Monday, May 16, 2016 edition the New Mexican informed us of the "Cyber oasis rises in Israel's desert."  The article is reprinted below in the Addendum.
What a great opportunity to laud the editors – write a letter to the editor of the New Mexican telling them how refreshing it is to see an article that illustrates the positive activities of the State of Israel, and asking them to print more of the same.  Information on how to write to the editor, and tips for writing effective letters can be found here.
SF Reporter prints more letters re: Lena Griffith – even anti-Zionists take Griffith to task for her hate speech.
The Lena Griffith hate letter controversy, perpetuated by the SF Reporter, continues with more letters from our community (yasher koach to John Greenspan, Todd Goldblum, and Barbara Einhorn), as well as those from our antagonists who also repudiate Griffith's letter.  The letters are printed below in the Addendum.  There are many reasons to continue writing a letter-to-the-editor to the SF Reporter.
Julie Ann Grimm, the editor, still has not apologized or acknowledged the lack of judgment and breach of journalism standards by printing the Lena Griffith letter.
The letters by Santa Feans for Justice in Palestine and Bekah Wolfe continue to perpetuate inaccurate viewpoints:
-"Progressive Jews and other peoples, both abroad and in Israel, decry the occupation and Israeli oppression of Palestinian rights."  Many progressive Jews decry the myths and lies put forth by groups like Santa Feans for Justice in Palestine.  Being progressive does not automatically make one take the SFJP line.  For example, see Alan Dershowitz's The Case for Israel.
– Bekah Wolfe implies that being in favor of Boycott, Divestment, and Sanctions against Israel, a movement whose originators and many supporters actually want to use to destroy Israel as a whole, not just their activities in the West Bank, is of positive value even while most Palestinian leaders decry such activities.
Yasher koach to Rich Lieberman for his New Mexican letter to the editor April 29, 2016 re: Bill Stewart's column of April 16, 2016.  Here's Rich's letter in its entirety:


Not going away
In trying to describe Middle Eastern violence ("What's fueling Palestinian violence?," Understanding Our World, April 15), Bill Stewart states that "the underlying issue that drives all others is that between Israel and the Palestinians."  Holy cow. The 250,000 dead in Syria are victims of a ghastly civil war that has multiple Arab factions fighting against each other, and multiple international meddlers offering assistance to all sides. This conflict is unrelated to anything happening between the Israelis and the Palestinians, unless Mr. Stewart believes in the trope that everything is the fault of the Jews. The poisonous sarin nerve gas that has been detected on Syrian battlegrounds is a result of Arabs fighting Arabs, and it has nothing to do with security fences in Israel.

Stewart also mentions the rise of the Islamic State group in his "underlying issue" theorem. Wow. The Islamic State grew from an al-Qaida franchise operating as Jabhat-al-Nusra in Syria. The bloody complexities involve age-old conflicts between Alawites, Sunnis, Shiites and others who are too busy at the moment to falsely blame the Jews. Yet.

Richard Lieberman, M.D.
Santa Fe
4.  If you see something, say something.  We need you to be our eyes and ears.
We can't do this alone.  There are times when Media@SFMEW misses items that may be in the Santa Fe media (or ABQ media if it reaches Santa Fe).  If you see an opinion piece, hear something on the radio, notice a sign along a roadway, or are aware of an upcoming event, let us know so we can inform our community to take appropriate action.  If you see something, let us know at media@sfmew.org.
---
Follow our blog posts and find information about pro-Israel issues at www.sfmew.org.
Sign up your like-minded friends and relatives at www.sfmew.org.
Make your tax-deductible donation to Santa Fe Middle East Watch.
---
Addendum
SF New Mexican article May 16, 2016:
BEERSHEBA, Israel — Here in the middle of the Negev Desert, a cyber-city is rising to cement Israel's place as a major digital power. The new development, an outcropping of glass and steel, will concentrate some of the country's top talent from the military, academia and business in an area of just a few square miles.
No other country is so purposefully integrating its private, scholarly, government and military cyber-expertise.
Israel is a nation of 8 million people with little in the way of natural resources. But in global private investment into cybersecurity firms, it is second only to the United States, with half a billion dollars flowing to the sector annually. Israel has not only vowed to repel the thousands of daily hack attacks against everything from the electric grid to ATMs, but has promised to build its commercial cyber-sector into an economic powerhouse.
More quietly, the Jewish state is also at the cutting edge of cyber-offense, developing stealthy computer weapons to penetrate its enemies' networks. The United States and Israel, working together, launched the world's most destructive cyberweapon known to date, Stuxnet, which was let loose on Iran's Natanz nuclear enrichment facility to devastating effect.
But where the two countries diverge is in Israel's apparent ability, because of its size, history, geography and culture, to organize itself to defeat cyberthreats. Different sectors of society — that in the United States do not have a tradition of collaborating — appear willing in Israel to work closely together under a strong centralized authority.
"You will not find it in the United States," said Eviatar Matania, the head of the National Cyber Bureau. "First, we have more enemies than others. We understand that the cyberthreat is here and now. Second, a lot of Israel's high-tech and innovation culture is in cyber. This is where we can gain an advantage over other countries in defending ourselves. And thus, we see cyber not just as a threat to mitigate, but also as one of our economic engines."
And that strategy is the foundation of Beersheba.
A cyber emergency response team, which was launched in 2014 to respond to cyber crises, will be housed in the midst of this booming development. It is part of the National Cyber Security Authority, which is mandated to protect all private-sector systems.
Nearby, next to a new advanced technology park that already houses cyber firm incubators and global companies such as PayPal, Lockheed Martin and Deutsche Telekom, backhoes are preparing a construction site that will become the headquarters of the Israeli military's cyberdefenders.
Eventually, the nation's secretive, elite cyberattack branch — the army's Unit 8200 — will also burrow in here. The two branches are scheduled to merge next year. They in turn will work closely with the National Cyber Security Authority.
Joining the effort will be the Shin Bet, Israel's security agency, which as well as its role in Israel and the occupied territories, has been a key cyber player for more than a decade. And completing the complex is Ben-Gurion University of the Negev, which is the nation's top school for cybersecurity. The university will also work with the cyber-response team.
"What you get out of that is the research capabilities that academia brings, the real-world knowledge that the [tech firms] bring, the hands-on experience that the military brings, alongside the entrepreneurial ability that the startups bring," said Nadav Zafrir, a former head of Israel's Unit 8200, who is himself now a tech entrepreneur. "You put all that together, it sparks magic."
Israel will never achieve a cyberespionage network on the scale of the United States. But it wants to be feared in the region, and its computer hacking and spying skills are sophisticated and innovative.
"The United States has more capabilities than Israel in cyberspace," said Gabi Siboni, director of the cybersecurity program at the Institute for National Security Studies in Tel Aviv. "But we are small. We are very anxious, and it's the difference between a speedboat and an aircraft carrier. We go very fast."
So central is security seen for the state's survival that every citizen — men and women alike, with exceptions for ultra-Orthodox Jews and the Arab population — is required after high school to complete a term of military service. The cream of the computer science and math crop are scouted by the elite military cyber-units when they are as young as 14.
"If you ask me what's the biggest secret of the Israeli high-tech system, it's the military's ability to look at people when they are in high school," Zafrir said.
The roots of Israel as a cyberpower go back to the 1973 Yom Kippur War, said retired Brig. Gen. Yair Cohen, another former head of Unit 8200, which employs thousands of soldiers and serves a role similar to the National Security Agency. In less than three weeks, Israel lost more than 2,000 soldiers largely because of a dramatic failure of intelligence.
As a result, the Israel Defense Forces (IDF) decided to reinforce their signals intelligence arm, Unit 8200. The unit sought the best code-makers and code-breakers, Cohen said. It also began to conduct its own research and development, with soldiers building radio interception, and now cybertools. "We cannot wait for someone in the United States to give us technology," said Cohen,who now runs his own cyber venture-capital firm.
Today, the military is working closely with the National Cyber Bureau, and is seeking legislation that will allow it "to be a major player in defending the nation" against cyberattacks and to take action against adversaries, said Brig. Gen. Danny Bren, head of the branch in charge of defending the military's computer networks.
The military hopes to establish a cybercommand by the second half of next year, a move the United States took seven years ago to merge the missions of attack and defense. Bren likens it to boxing. "You don't see the boxers only throwing punches, or only blocking," he said. "They must do both."
Israel's ability to play offense came to light in a joint operation with the United States called "Olympic Games," a campaign to disrupt Iran's nuclear enrichment program. Discovered by private-sector researchers in June 2010, the computer worm Stuxnet caused nearly a thousand centrifuges at Natanz to spin out of control, requiring replacements. Never officially acknowledged by either country, the campaign nonetheless showed the world what was possible with a cyberweapon and it spurred other countries — Iran chief among them — to set up cybercommands.
"This global understanding drove everybody to a cyberweapon force buildup," Bren said.
But Israel's desire to act has sometimes created friction with even its closest ally. In 2012, Iran detected a series of cyberattacks that wiped data from networks in its oil industry. Investigating the malware, private-sector researchers discovered a cyberespionage tool that had been created jointly with the United States years earlier, but which Western officials said was launched by Israel in a unilateral operation. That deployment annoyed the National Security Agency, as it led to the discovery of the spy tool, dubbed Flame.
But, said a former senior U.S. intelligence official, "it was generally viewed as being worse for the Israelis than it was for us" because it was their primary cyberespionage tool.
"Any time two states agree to tackle complex and consequential projects together, misunderstandings and occasional disagreements are inevitable," said Stephen Slick, a former CIA station chief in Tel Aviv who now teaches at the University of Texas in Austin. Nonetheless, he said, "a deep reservoir of mutual respect and trust exists between the Israeli and U.S. security communities, with both sides recognizing the benefits of close collaboration in cyber-activities."
High on the 22nd floor of Israel Electric Corp., the nation's main electric utility, a jumbo-screen on a wall shows the frequency and intensity of attempted hacks into the government-owned company's network. Israel Electric, located in Haifa on the Mediterranean Sea, two hours north of Beersheba, is one of the most targeted entities in Israel.
A successful attack could disrupt power to virtually all of Israel, said Yosi Shneck, the company spokesman. But to date, none has succeeded. His engineers have help from an outside source: Shin Bet. Besides thwarting physical terrorist attacks, the security agency is responsible for protecting 30 or so critical entities from cyberattack. The list was drawn up by Israel's parliament and includes the Bank of Israel, oil refineries and the blood bank. That is the equivalent of the FBI regulating major U.S. businesses or private entities for cybersecurity — an authority that would alarm American companies and civil libertarians and could not secure support in Congress.
But in Israel, the fear of a major attack is greater than concern for privacy, said Rami Efrati, a former National Cyber Bureau official.
The Shin Bet does not monitor the companies' networks. It sniffs out threats before they hit the firms. It also relies on sensors the companies install in their systems to gather information that is then fed back to the security agency. In turn, Unit 8200 and Mossad, the foreign intelligence agency, also share cyberthreat data with Shin Bet. By contrast, in the United States, it took years to pass a law to encourage — not compel — companies to share computer data with the government.
Yaron Wolfsthal, who heads an IBM research lab at Ben-Gurion University here, is anticipating more cross-pollination in the desert, as he awaits the arrival of army cyber-units.
"We can work with them even before they are discharged," he said, noting some will be working toward advanced degrees. And, he added, "The technical engineers will go from their home to the base everyday, and on the way, they will see banners for all the companies here. This primes them to consider working in those companies later on."
The military's elite cyber-units, for their part, have created a climate that fosters innovation and encourages people to stay even after their terms of service are up — three years for men and two for women. "Unit 8200 works like a startup," said Tomer Touati, a captain who stayed for six years and is now with PeriTech, a cyber venture-capital firm. "You have your own R&D team. You can pick up the phone or send an email to another R&D team and say, 'Look, I think if you do this and this, we can work faster or better.' "
And Israel is also grooming its next generation of warriors to populate the cyber-infrastructure it is building.
At Ohel Shem High School in Ramat Gan outside Tel Aviv, a uniformed recruiter sits in on sophomore math classes, scouting candidates for the units that protect the military's networks.
Military cyber-officers are now mentoring students at four Israeli high schools that have advanced courses in math and computer science. The two-year-old program has more than 800 students.
"My dream since childhood is to work in computers and cyber," said Yarin Zeevi, 18. "This," she said, "is what I can give to Israel, as a citizen and as a soldier."
To lure students to sign up for cyber-units, the military organizes trips to its training base near Tel Aviv where students can get a taste of the action. One recent excursion featured a hack-a-thon in which the students were assigned to build an Android app that would allow a smartphone to take a person's picture and then use facial-recognition software to search databases for a match.
"We are looking for talent," said Capt. Rotem Bashi, a commander in a cyberdefense unit, "because the … next war will be in cyberspace."
---
Not With Us

Despite the fact that Lena Griffith praises us for our persistence in "Sign of the Times," we wish to dissociate ourselves from the last three unfortunate paragraphs of her letter. It is anti-Semitic to assign any specific cultural characteristics to all Jews, or indeed, all Israelis, and many argue that it promotes anti-Semitism for Israel to claim to represent all/or speak for all Jews as they often do. Progressive Jews and other peoples, both abroad and in Israel, decry the occupation and Israeli oppression of Palestinian rights.

Santa Feans for Justice in Palestine
Santa Fe


Hate-Filled

I cannot believe SFR actually published Lena Griffith's hate-filled letter. There is nothing wrong with criticizing Israel per se. Its own citizens do it every day. But Ms. Griffith's letter clearly crosses the line. As to the sign on Old Pecos Trail, the suggestion that Israel is an apartheid country is hate speech. I followed the events in South Africa years ago and see no similarities between that nation and Israel. And it goes without saying that comparing Israel to Nazis does not deserve the dignity of a response.

As for the plight of the Palestinians, I suggest Ms. Griffith and Mr. Haas target their anger at the Palestinian leadership.Since the turn of this century, Yassar Arafat, who died as one of the world's richest men, turned down two peace offers, while his successor Mahmoud Abbas, now in the 12th year of his five-year term, turned down another opportunity in 2008. … I am not a Netanyahu fan, but it matters little who governs Israel as long as the Palestinians remain trapped by their inept leadership. Until that situation is rectified, there will be no justice for Palestine.

John Greenspan
Santa Fe

An Outrage

We are absolutely outraged that SFR printed Lena Griffith's hateful and anti-Semitic letter to the editor. She justifies renewed anti-Semitism around the world with the anti-Semitic "blood-libel" claim, the same claim used for millennia to slaughter Jews. Her outrageous claims of atrocities committed in the name of the Jewish people needs to be condemned in the strongest language, not printed in a newspaper!

Todd Goldblum, Barbara Einhorn
Albuquerque


Disservice to Effort

As a life-long member of Santa Fe's Jewish community and an anti-Zionist, I was appalled by Ms. Griffith's crass, anti-Semitic remarks. … People of all faiths, including Jews, have been working for Palestinian dignity, equality and justice for as long as Palestinians have been displaced from their homes and deprived of their rights. The criticism of the Israeli state's policies towards Palestinians expressed by groups like Jewish Voice for Peace (which Ms. Griffith erroneously claims she is allied with) is rooted in values of equality for all peoples.

The Boycott, Divestment and Sanctions movement (which, incidentally, should look far more familiar to the people of Santa Fe now that we are officially boycotting North Carolina for one bigoted law, while Israel has 50+ laws which discriminate against its non-Jewish citizens in addition to Occupation's legal system) has unequivocally said anti-Semitism has no place in our movement. The movement for justice and equality for Palestinians is rooted in a global movement against systemic forms of oppression, racism and bigotry. Lena Griffith's use of anti-Semitic rhetoric to supposedly advance the Palestinian cause is a disservice to all of us pursuing justice in Israel/Palestine: Palestinians most of all.

Bekah Wolf
Santa Fe