Yasher Koach to Steve Goldstein for quickly responding to the Jeffrey Haas My View from December 2.  Steve wrote (published December 7, 2017; we added the picture for this post):
Laughable, yet not
Jeffrey Haas' My View is so one-sided it is laughable ("Learn about the children of Gaza," My View, Dec. 2).  The writer is either oblivious to the crimes perpetrated by Hamas against the people of the Gaza Strip and Israel itself, or so warped by anti-Zionism that he cannot or will not appreciate the facts of the case. Anyone with a passing familiarity with the situation in Gaza is aware that a multitude of terrorist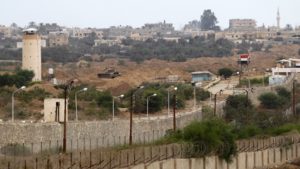 events have been perpetrated on the citizens of Israel from within the borders of Gaza, not to mention the hundreds of missiles fired into Israel from there over the past 10 years.
Hamas and Egypt share the ultimate responsibility for the situation and shoulder much more of the blame than Israel, which is simply defending itself
against the outrageous and nonstop terrorist attacks visited upon its population.
Steven Goldstein, M.D., Tesuque
Now, here's what shows some bias from the New Mexican's op-ed editor, Inez Russell Gomez, whether intentional or not:  besides not requiring Haas to at least acknowledge or mention Hamas (not mentioned) in his free advertisement provided by the New Mexican, (see our analysis we posted here) the New Mexican published a congratulatory letter for printing Haas' op-ed a couple of days ago.  Here's that letter (published December 5):
Kudos, New Mexican, for the courage to print Jeff Haas' My View on Dr. Mona El-Farra's upcoming presentation ("Learn about the children of Gaza," Dec. 2). Haas was erudite, accurate and touched on the causes of the deprivation, not delving into the never-ending, useless debate between human rights advocates (Amnesty International, United Nations and virtually every country in the world) regarding root causes, national defense, massive, disproportionate retaliation and collective punishment — both illegal internationally — between radical supporters and justifiers of a "greater Israel."
Mary-Charlotte Domandi's radio interview was a must-listen, geared to gaining support for children and Gazan victims of circumstances beyond their control. This message needs stressing: If the roles were reversed — Palestinians occupying and oppressing Jews — I would fight as strongly against that fiction as I do the current reality. Humanity is humanity. Protect the weak.
Here are our concerns about the New Mexican's actions (besides the poor judgment of publishing Haas op-ed in the first place):
The editor removed Steve Goldstein's last line:  "Please be more responsible in the future when you are tempted to publish such one sided accounts without providing your readers with all of the facts."  Curious that they'd keep in the praise by O'Keefe ("Kudos, New Mexican, for the courage to print…") while eliminating the rebuke by Goldstein ("Please be more responsible…").
This is not the first time they've done this – a letter submitted by Susan Goldstein (See "New Mexican Distorts Pro-Israel Letter" in February, 2017) was also distorted by the editor.  In that letter the editor removed Susan Goldstein's punchline:  "The New Mexican's credibility is at stake when they continue to let [Bill] Stewart maintain a column with such fact-checkable errors.   Time to let him go?"
Is the New Mexican a bit too thin-skinned?
Many of our members have already stopped getting the New Mexican because of its seeming anti-Israel bias (among other reasons).  We told this to the op-ed page editor when we met with her.  Perhaps she doesn't mind a diminishing readership?  We'd think her publisher would.
---
As most of you know by now, SFMEW supporter Paul Grace died unexpectedly on December 4.  We have reproduced his obituary under our "In Memoriam" tab.  We will miss him.  Baruch Dayan HaEmet.
---
Get your tickets to hear Dr. Clive Lipchin on January 7, 2018.  More information about the upcoming talk can be found here.
---
The costs of procuring our speakers is only partially underwritten by the ticket prices.  Most of the costs are offset by grants and donations from our members.  If you haven't donated in 2017 to SFMEW please do so by clicking here and sending your check to the Jewish Federation of New Mexico – SFMEW is a grateful beneficiary of the Federation.  Be sure to designate your donations for SFMEW, and send a note to subscribe@sfmew.org to let us know you are sending the donation.  Thanks in advance.