There are many good things Israelis do because they hold the same humanistic values as Americans and others.  Below is an interview with Israeli Druse physician Salman Zarka, MD.  What Dr. Zarka doesn't mention is that often when Syrians return to their country they are afraid to talk about the care they receive because of fear of being harmed for having "collaborated with the enemy" simply because they received medical care in Israel.
The cost of care provided by this hospital in Safed and others is enormous.  This article in the Journal of the American Medical Association is an example of how Israelis are helping Syrians injured in their devastating civil war, subsidizing Syrian health care (which is almost non-existent now), and quietly exhibiting their universal humanistic principles at the same time:
Israeli Physician Salman Zarka, MD: Caring for Syrian Patients Is Our Duty
http://jamanetwork.com/journals/jama/fullarticle/2607812
Six years after the start of a devastating civil war, more than 6 million Syrians are displaced within their own country, according to a report from the United Nations and international partners. More than 4.8 million Syrian refugees have fled to Turkey, Lebanon, Jordan, Iraq, and Egypt, while more than 880 000 have sought asylum in Europe. Although US President Donald J. Trump signed an Executive Order suspending entry to Syrian refugees this January, by the end of 2016, more than 18 000 Syrian refugees—roughly half of them children younger than 14 years—were already being hosted in cities across the United States, according to State Department data.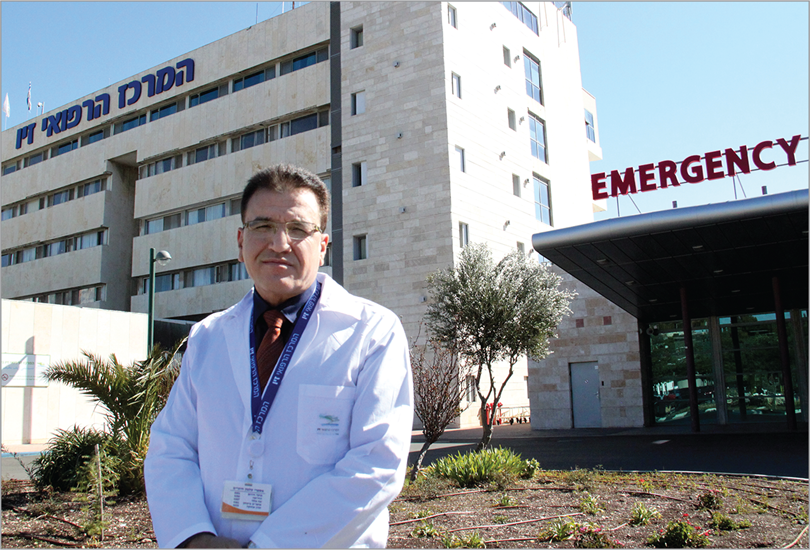 Dr Salman Zarka is the general director of Ziv Medical Center, whose staff has treated hundreds of wounded Syrian civilians.
Ziv Medical Center
But not all the Syrians who left their country in recent years are looking for asylum. Some are seeking medical treatment they can no longer obtain in their homeland. Half of Syria's public hospitals and health care centers are either closed or are only partially functioning, the World Health Organization has said. Physicians for Human Rights reports that, facing deliberate attacks, more than half of the country's 30 000 physicians have fled.
Faced with a decimated health care system, wounded civilians from Syria first began to arrive on Israel's northern border seeking medical assistance in early 2013. At the time, Salman Zarka, MD, MPH, MA, was a colonel in the Israeli Defense Forces (IDF) and had previously served as medical commander of the northern arena in Israel. Under his watch, the IDF opened a military field hospital to provide medical support to those Syrians who came seeking it.
Since then, Zarka said, Israeli health care personnel at an IDF aid station on the border, the now-closed military field hospital, and civilian hospitals have provided medical care to roughly 2500 Syrians. Most come from Syria's southern region, close to the Israeli border. In a New Year's speech in December, Israeli Prime Minister Benjamin Netanyahu pledged to expand medical treatment to civilians from the more distant ravaged city of Aleppo. Israel does not host Syrian refugees; the patients return to their country after receiving treatment, Zarka said.
Now retired from the military, Zarka is general director of Ziv Medical Center in the city of Safed. The staff of Ziv, Israel's northern-most civilian medical center, has treated more than 800 Syrian patients.
Zarka said that although many Israelis and Syrians view each other as the enemy due to 3 wars and protracted tensions between the nations, he believes it's part of his mission to provide medical care to those who need it. "This is my duty," he said. "I chose to be a physician because I believe in that."
On a recent visit to the United States, Zarka spoke with JAMA about the challenges of treating Syrian civilians and why he believes medicine could be a key to peace in the region. The following is an edited version of the interview.
JAMA:How many Syrians does your hospital see on a daily or weekly basis?
Dr Zarka:  Usually we have about 10 to 20 Syrian wounded at our hospital.
JAMA:  What type of care are they coming to your hospital seeking?
Dr Zarka:  We have treated children, women, very young, and very old, with multiorgan system problems—mostly very serious war injuries. Others were sick. We already have 19 new babies that were delivered at Ziv.
JAMA:  What types of war wounds are common?
Dr Zarka:  Most of them have orthopedic problems because of bombardments. We had some children who have played with mines. We had some people with very traumatic amputation of limbs. We have neurosurgery problems. We have very complicated chest and abdomen injuries. Firing [injuries]. I can remember in one case [a man] was fired with a bullet in this bone. [He points to his jaw.] Another bullet in the chest. And he also was near a grenade, so he had a big problem with the abdomen, with bleeding from the liver, with bleeding from the intestine. So this man, in order to save his life, we needed to operate on him again and again. Mostly the Syrian wounded suffer from a bacteria very resistant to antibiotics, and this is made more complicated with sepsis disease.
JAMA:  In terms of the people who are sick…
Dr Zarka:  Some of them unfortunately have cancer disease. We treated a girl, 14 years old, with a big cancer disease of the uterus who was hospitalized at Ziv for about 4 months. She was treated with chemotherapy, by surgery, and after 4 months she got back to Syria. Three weeks ago, we had a 10-year-old girl with diabetes mellitus that came to the border with a really life-threatening situation. And we treated her and provided her insulin for 6 months to get back to Syria. And I want to believe after 6 months she will come get back close to the border, and we can continue helping her if they have no facility at their country.
JAMA:  What are the biggest challenges you face in treating Syrian civilians at your hospital?
Dr Zarka:  Money may be the first one. It's really a big debate: Do we have to provide medical support to our enemy? Syria is our sworn enemy… [because] of many wars… between the 2 countries. Ziv Medical Center is a small to moderate governmental hospital. It's the only one at this area, at the north of Israel, and we need to support first of all our citizens. We provide medical support to about 400 000 people living in that area. So sometimes they ask: Why him? What about us? Some of our community is the Druse community that I belong to. And the Druse community sometimes feels that we are providing medical support to the enemies of the Syrian Druse.
The other issue… When you are treating Syrians, mostly they have no documentation about what happened, no patient files, and you need to lean just on the data that they give you. It's really very problematic. It's not the Western standard.
When you're treating Syrians, [they are] mostly alone. They have no family [with them]. These patients have only Ziv staff… to provide medical support, to provide social support, to provide other needs like equipment, like clothes.
We decided that we'll treat the Syrians as if they were Israelis. We decided we have only one standard of treatment at Ziv hospital. When the patient gets into the emergency room, whether he's Israeli or Syrian, we'll provide him our best.
JAMA:  Who is paying for the care that they're receiving?
Dr Zarka:  Most of the payment is from the Israeli government. They pay Ziv hospital in order to provide medical support to the Syrians. But sometimes we need more. And most of this is philanthropic from the north of Israel or from the good Jewish community or others all over the world.
JAMA:  You mentioned that you are Druse. What does this mean and how does it affect your perspective on treating patients from Syria?
Dr Zarka:  Druse is a small community living in Israel, especially at the north of Israel, in several villages. The Druse community is more known in the Mediterranean area, in Lebanon and in Syria. We believe in one God. We believe in reincarnation. As I said, there is a big debate—not just a Druse debate—about providing medical support to the Syrians. But really I'm providing medical support to all of the northern residents of Israel. Druse, Jewish, Muslims, Christians, all of them. And all of them are reflected in my staff at Ziv hospital.
JAMA:  What are the biggest challenges Syrians face in obtaining health care in Israel?
Dr Zarka:  Especially when [the crisis] started, it's not easy for them to come to their enemy asking for help. When it started I met a Syrian wounded [man] that used to be a Major in the Assad regime. [He] was shot at Damascus. He lost his leg and after about 3 weeks, when I met him, I asked, "Why now? Why you didn't come before?" He said, "I want to be honest. I was educated that you are the devil. When I came here I really looked for the tails of your people. Or the big ears."
I think the other issue is they are lonely at my hospital. So I hired a social worker speaking Arabic.
JAMA:  What particular cultural issues should US physicians be aware of if they're treating Syrian refugees here?
Dr Zarka:  I think treating refugees is very complicated and very challenging. These days we are talking… about tradition-related medicine. You know, health is part of tradition. It's part of religions. It's part of [a] way of life. And it differs for people all over the world. When Western people have a cancer disease, they will go every place searching for treatment. Sometimes a more traditional community behaves different. They think that this cancer disease is part of their destiny, something that God sent. And they need not struggle against it.
JAMA:  Why is it important for you to be involved in the care of Syrians? Dr Zarka:For me, as a physician, it's really very clear. I swore to provide medical support. Maybe when this started, I thought, "This is my enemy." But during the last 3 years I really feel that I, my military staff, and my Ziv staff, we are very lucky for the opportunity to provide medical support to these people in their time of need. I think medicine really could be a bridge between people, can connect people, and maybe in my vision at Ziv hospital, maybe there is better future for all the children of the area. Maybe we suffer enough with war. Maybe we can dream about a better future. We have started talking about establishing a bigger clinic near our border [with Syria]. And then we can connect with videoconference between Ziv and this clinic. Dreaming to change the area you need to think out of the box.
JAMA:  Do you have any other messages for physicians who might be thinking about treating refugees?
Dr Zarka:  I think all of us swore… to save life and really to make life better for all kinds of people. I think we can do it. And I think usually physicians are not just physicians. They are leaders in order to change this world. I want to hope so.
Note: The print version excludes source references. Please go online to jama.com.