Take Action:  Ask Senators Heinrich and Udall to Co-sponsor the Israel Anti-Boycott Act (S. 720).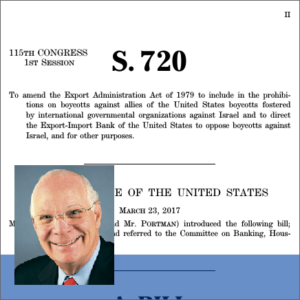 The Israel Anti-Boycott Act (S. 720) has 48 senate co-sponsors.  Unfortunately neither of our two senators has signed on to co-sponsor.  Here's your chance to make a difference.  Write to or call Senators Heinrich and Udall and ask them to co-sponsor.  Do it before Rosh Hashanah.  Here's the contact information:
Martin Heinrich  (202) 224-5521; fax:  (202) 228-0832
Chief of Staff:  Joe Britton:  joe_britton@heinrich.senate.gov
Legislative director: Jude McCartin: jude_mccartin@heinrich.senate.gov
Foreign Policy Legislative Aide: Tony Samp: tony_samp@heinrich.senate.gov
Tom Udall  (202) 224-6621; fax: (202) 228-3261
Chief of Staff:  Bianca Ortiz-Wertheim:  bianca_ortizwertheim@tomudall.senate.gov
Foreign Policy Legislative Aide:  Matthew Padilla:  matthew_padilla@tomudall.senate.gov
Legislative Director: Andrew Wallace: Andrew_wallace@tomudall.senate.gov
Background
The U.N. Human Rights Council is embarking on another biased, one-sided effort to harm Israel. The Council is currently building a blacklist of American companies doing business in Israeli controlled areas. This database could be used to pressure companies into boycotting the Jewish state, which would hurt the U.S. economy and strip thousands of jobs away from Israelis and Palestinians alike.
According to reports , the blacklisted companies would include businesses as large as Coca-Cola, Teva, Airbnb and TripAdvisor.
In response to this emerging threat and the potential damage it could have on the United States, Israel, and New Mexico, SFMEW is actively encouraging New Mexico's Congressional delegation to support the Israel Anti-Boycott Act. This bipartisan legislation would protect U.S. companies that are targeted by international boycotts, and punish those who comply with them.
Israel is New Mexico's second largest export market after Mexico
Since 1996 New Mexico has exported $4.4 billion of goods and services to Israel, currently New Mexico's second largest trading partner. In 2013 NM was the third-ranked state after New York and California as doing the largest amount of total trade (import and export) with Israel.  In 2016 New Mexico exported $508 million in goods and services to Israel.
Additionally, New Mexico has received $1.7 million in Binational foundation grants shared with Israel since those grant programs originated:
| | | |
| --- | --- | --- |
| Agricultural R&D | 1979 – present | $428,086 |
| Science & Technology | 1996 – present | $1,103,326 |
| Industrial R&D | 1977 – present | $146,810 |
Grant recipients have been diverse and have included Aquila Technologies Group, Inc., Los Alamos National Lab, Lovelace Respiratory Research Institute, NM Institute of Mining and Technology, and the New Mexico State University.
New Mexico is one of 33 states that have cooperative agreements with Israel. In June 2008 Governor Bill Richardson signed an agreement of cooperation with Israeli Minister of Industry Eli Yishai that spells out a process to create strategic partnerships to cooperate on the advancement of joint water and energy technologies.
SFMEW and the Jewish Federation of New Mexico have identified at least 25 companies and governmental entities that do significant business with Israel.  Our dairy industry relies on Israeli products for efficient milk harvesting and storage.  Our chile hatch industry relies on Israeli machinery for harvesting.  Intel in Albuquerque relies on Israel to export or import over $100 million of computer and electronics components a year.
Which international organizations are attacking Israel economically? 
In March 2016, the United Nations Human Rights Council (UNHRC) ordered preparation of a database (the "blacklist") of companies operating in territories which came under Israeli control during the 1967 Six Day War. The initial version of this database will be ready by year's end. Subsequently, U.N. agencies and the European Union (EU) will likely take steps to pressure listed companies to end their legal business or face sanctions.
What impact would the blacklist have?
Both Israelis and Palestinians would suffer if American companies refrain from doing business in these areas. Such a boycott could also have the unintended consequence of more broadly discouraging trade with Israel and the Palestinians by companies seeking to avoid legal danger or controversy. Moreover, this wholesale adoption of the Palestinian negotiating position that any Israeli presence outside of the pre-1967 borders is illegitimate would undercut any attempt to bring Palestinians back to the negotiating table for direct talks—the best way to resolve their differences with Israel.
What does the Israel Anti-Boycott Act do?

Enables Congress to again take a stand against unauthorized boycotts of American allies like Israel.
Reinforces and broadens longstanding U.S. policy opposing boycotts against American allies. The bill is anchored in existing law that has been consistently upheld by U.S. courts for 40 years. The Act would prohibit American companies from complying with boycott requests by international governmental organizations like the U.N.
Exclusively focuses on commercial conduct while protecting the free speech rights of all Americans—including those who advocate boycotts against Israel.
Discourages international governmental organizations from blacklisting American companies conducting legal activities in any friendly country.
Encourages Palestinians to return to direct talks by thwarting coercive efforts against Israel outside of the negotiating process. The bill takes no position on the terms of a final agreement.
---
Yasher Koach to Zach Benjamin…
…for his op-ed in the New Mexican today:
Be aware of anti-Semitism in our midst
Like much of the country, New Mexico's Jewish community watched with more than a little horror as Nazis terrorized the streets of Charlottesville, Va., in a violent demonstration that left three dead — including two law enforcement officers — scores wounded and millions more emotionally scarred.

This is far from the first time in recent decades that white supremacists have taken to American streets. However, the loss of life and the images accompanying the tragedy have turned what would, at best, have been a display of the country's ugliest political underbelly into a potentially seminal American moment in which the darkest recesses of our national soul were laid bare, leaving us no choice but to confront difficult realities.

One of those realities is evident not in what has been said since the Charlottesville tragedy, but in what has been left out of the narrative. The official name of the march on Charlottesville was "Unite the Right to end Jewish influence in America." Those who perpetuate Hitlerian ideology are a threat to all of us, and certainly to minorities and vulnerable communities of all stripes. In this particular case, Jews were among the primary stated targets of the perpetrators' hate. 

Ask most Americans, however, and they are unaware of this reality. The second half of the neo-Nazis' phraseology — "… to end Jewish influence in America" — has been largely ignored. Despite the fact that Jews were specifically targeted, anti-Semitism been excluded to a significant degree from the narratives emerging in response to events in Charlottesville.

The minimizing of anti-Semitism as part of the post-Charlottesville narrative follows an unsettling pattern of hostility toward Jews from some of the social justice movements in which many among us believe so deeply. Reports of Jews being told that they are unwelcome in the activities of Black Lives Matter, especially on college campuses, followed the inclusion of anti-Israel rhetoric in the charter of the Movement for Black Lives. This year, participants carrying rainbow flags emblazoned with stars of David in the Dyke March — an offshoot of the annual Chicago Pride Parade — were told to leave, citing "Zionist symbolism" that was deemed offensive to other marchers.

Jews are the only minority group on which conditions appear to be placed for inclusion in social movements. To be incidentally and quietly Jewish is acceptable. To be proudly so, or to be pro-Israel in any respect, often is not. This is bigotry in its own right, and it must end.

In the massive Venn diagram of political and social perspectives that exist among decent people, social justice movements must focus on the common ground shared by all of us who reject bias in all its forms. In the same spirit, anti-Semitism must be included — not above other forms of bigotry but alongside them — in the narrative against hate. Only once we cease to dwell in those areas where our perspectives differ, and only once we focus instead on those areas where we share common vision, will the broad fight for social justice have a chance at success.

Shortly following Charlottesville, I attended Mayor Javier Gonzales' rally against racism in Santa Fe Plaza. It was a civic conversation about love and a categorical rejection of bias in all its forms, including anti-Semitism. Rabbi Neil Amswych emceed the event with grace and poise, and the broad spectrum of those who reject hate were welcome and represented without condition. If the future of the discourse on social justice sounds like it did that evening in Santa Fe, then we can be optimistic about the movement's future. Otherwise, I fear that humanity will be doomed to repeat its basest and darkest errors as forces for good destroy themselves from the inside out.
Zachary M. Benjamin is executive director of the Jewish Federation of New Mexico.
---
SFMEW is a beneficiary organization of the Jewish Federation of New Mexico.
---
It's a mitzvah to give tzedakah (charity) on a regular basis, and especially before holidays and shabbat.  Donate to SFMEW through the Jewish Federation of New Mexico.  Be sure to designate your donation for SFMEW.

---
L'Shana Tovah U'Metukah – a happy and sweet New Year to all.  Making New Year resolutions?  Resolve for the year 5778 to use your shofar to expand your pro-Israel voice through media and political advocacy, and volunteering with Santa Fe Middle East Watch.  We need your input and help.